mysore.ind.in
::
Places Around Mysore
Mysore City Itinerary
Attractions in Mysore
Distance to Mysore
Budget Hotels in Mysore
Mysore Hotels
Heritage Hotels in Mysore
Bangalore to Mysore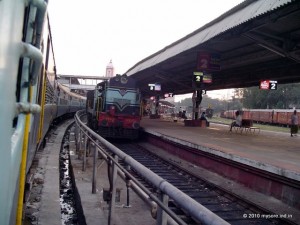 Mysore is well connected with Bangalore by Train.
The railway station for most of the trains to Mysore from Bangalore is Bangalore City Jn ( Station Code : SBC).
Some of the trains, especially the ones pass via Bangalore halts at Yesvantpur Jn, Bangalore East (BNCE) , Bangalore Cant (BNC) etc depends on the route.
There are many daily trains, both express and the slower passenger, trains between Bangalore and Mysore.
Talking of the daily trains, the earliest to leave Bangalore for Mysore is the Mysore Express (Train No: 16021), popularly called the Kaveri Express. This connects Mysore with Chennai via Bangalore.
You can catch this train from Bangalore City Jn, Cantonment (BNC), Bangalore east (BNCE), Krishnarajapurm (KJM)  or even from Whitefield (WFD)
Keep in mind, the train gets split at  Bangalore City Jn and only a 'truncated' train continues to Mysore. So when you get in see to that you are boarding the coaches that head to Mysore!
You need reservation , if you require sleeper berth or get the regular second class unreserved ticket.
The next train for Mysore is the Mayiladuturai  Mysore Express (Train No: 16231), again a long distance train that connect Mysore with places in Tamilnadu like Thanjavur, Tiruchirapalli, Salem etc.
This train too halts at Bangalore East (BNCE), Bangalore Cant (BNC)  and finally leaves Bangalore City Jn by 6am  to arrive Mysore by 9.20am.
Hampi Express (Train No 16591) leaves Bangalore Jn by 6.30am and reaches Mysore Jn by 9.40am
The Tuticorin-Mysore express (Train No: 16236)  leaves Bangalore City Jn by 7am and reaches Mysore by 10am.
The first passenger train to leave for Mysore is the Tirupati – Chamarajanagar Passenger (Train No: 56214) that passes via Bangalore and Mysore. Leaves Bangalore Jn at 7.30am and reaches Mysore by 10.50am.
There are many more trains that connect Bangalore and beyond with Mysore. See the full list of trains from Bangalore to Mysore with Train Timings and the list of morning trains from Bangalore to Mysore